Upcoming Events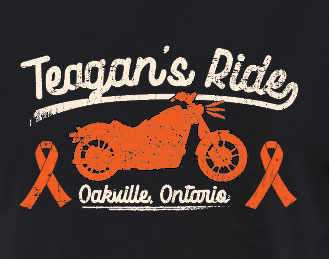 Teagan's Ride
Teagan's Ride, Saturday June 10, 2023 To benefit the Oakville & Milton Humane Society In Loving Memory of Teagan Walsh
"Riding and Providing for Those Who Can't"
Teagan's Ride is in memory of Teagan Walsh, who loved animals and wanted to become a veterinarian. Teagan and her family adopted a cat named Otis from the Oakville and Milton Humane Society. This ride honors her memory, all donations will go directly to benefit the Oakville & Milton Humane Society.
During the past three years, many pets have found homes through the Humane Society. By honoring Teagan's memory, we can all continue to help keep her legacy alive. For more information - CLICK HERE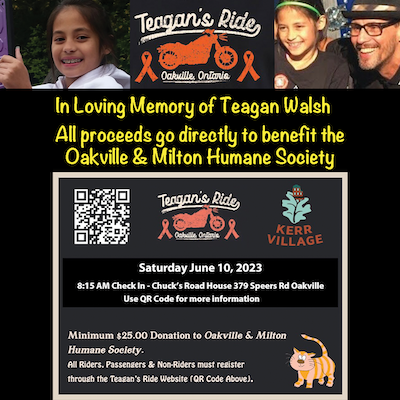 Event Information Linktree:

Teagan's Ride
TEAGAN'S RIDE SCHEDULE
Saturday, June 10, 2023
8:15 am Check In on patio - Chuck's 379 Speers Rd, Oakville, ON L6K 3T2.
Riders meet in parking lot on the patio.
Light refreshments will be provided.
8:45 am - Rider Meeting/Briefing
9:00 am - Ride Starts to Royal Botanical Gardens & return.
740 Spring Gardens Rd at Botanical, Burlington, ON L7T 1J3
12:30 pm - ETA back in Oakville

**Post-ride reception for all riders & non riders who donated Chuck's 379 Speers Rd, Oakville, ON L6K 3T2**
Music by Jan's DJ Service